Leatherworks_park
Located along the banks of the Mahoning River, Leatherworks Park is a trail-head park that intersects with a proposed multi-use recreational trail. Once home to a leather tannery the property is a brownfield site that has been acquired by the City of Girard. This project provides a speculative look at how the park might be developed and include facilities including a picnic shelter, a playground and an adventure camp site.
Community Event space
A proposed event lawn slopes subtly to a newly accessible canal trail that connects park users with existing recreational park upstream and the Mahoning River downstream.
Adventure Campground
As the proposed recreational trail meets with a regional trail system the proposed adventure camp site features a small shelter, an educational amphitheater, climbing wall, and an overlook tower providing views of the industrial river valley.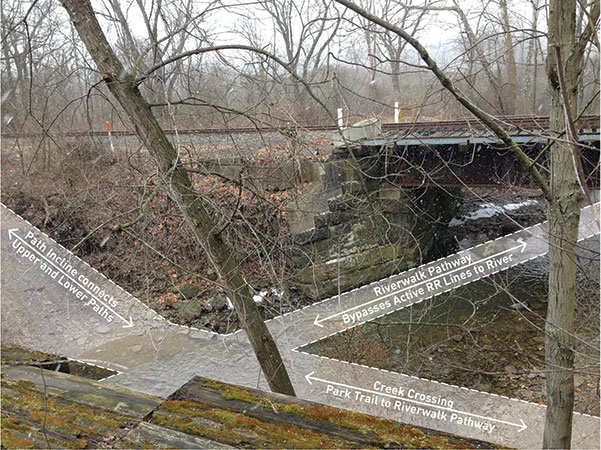 Picnic Shelter
A primary feature of the trailhead park is a picnic shelter that sits at the intersection of pedestrian and vehicular access routes allowing for easy and regular use by both groups.
Woodland Playground
Making use of an existing clearing along the multi-use trail, the playground is defined by a loop path that draws users from the trail. A freestanding wall provides a small climbing wall, zip-line launch, and a wetland overlook.
Multi-Use Trail
The proposed multi-use trail connects the leatherwork park features along it's length. The trail would stretch for just over a two miles and has the potential to connect with existing regional trails.