worthington_Residence
Located on a steeply sloping site that abuts a small woodland creek, this project reconciles its rustic setting and the contemporary architecture of the home by deploying a series of pragmatic terraces that extend make for a graceful entry at the front of the home and extend the living space to the rear.
Entry sequence
The design divides the nearly 3 feet of grade change between entry drive and front door by creating a series of small transitions; each of which articulate a specific entry space from guest parking, to garden, dinning terrace, and entry.
Garden terraces
From small to grand the project creates a series of terraces treating each as an opportunity for garden. At the rear of the house playful ornamental mosses fill the stair treads as one moves from the living terrace to that of the main garden.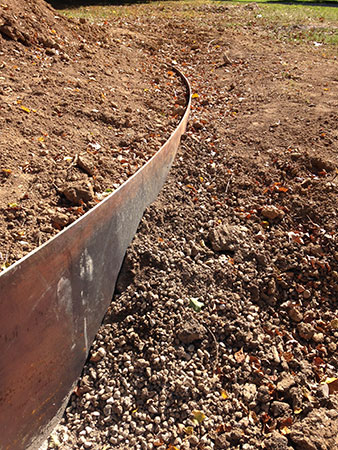 Overlapping spaces
Throughout the garden spaces have intimate relationships to each other; this is especially true of spaces immediate to the house that appear to be almost seamless with the interior.
small details
The stair treads off the living terrace provide a space for pocket gardening, the homeowners have filled the treads with mosses, herbs, and succulents.
Authentic materials
In the home as well as the landscape traditional and honest materials are used allowing their imbedded qualities to be noticed and appreciated. Bluestone terraces, limestone and cor-ten steel retaining walls blend with the landscape.